Cut your carbon footprint. Switch to Green website hosting.
At CSR Management we're delivering CSR & Sustainability strategies for the greater good. One of the first elements we look at when we conduct a CSR & Sustainability review is your digital carbon footprint. In particular where is your website hosted and is it "hosted Green"?
What is the environmental impact of the internet?
Website hosting is energy-intensive. According to the Web Project, powering the average website produces approximately 2000kg of CO2 a year which is the equivalent to driving a new car more than 5000 miles. There are over 1.5 billion websites currently live in addition to streaming services. According to Lancaster University, the estimated total output of CO2 by datacentres, websites and internet infrastructure globally is 1.7 billion tonnes, which accounts for almost 3.7% of total global CO2 emissions. That. Is. A. Lot.
Where can i get green hosting?
If you're just starting out and haven't yet bought your domain or hosting package yet then make sure to check for the sustainability and environmental policy of your domain platform and web hosting company. At CSR Management we work with Kualo to provide carbon neutral web hosting to our clients and of course we host our websites with Kualo too as you can see below. Kualo datacentres in the US and UK are powered by 100% renewable energy and they use the most efficient servers to ensure that any extra power generated is sent back to the national grid.
Should i switch to green hosting?
We advise all our clients to switch to green hosting with Kualo as they will manage the switchover and their 24/7 support is superb according to our Head of IT, Duncan. We should just add though that it's important to consult your marketing team too and in particular your SEO team just to ensure the transition is smooth.
How can i find out if my website is eco-friendly?
The Green Web Foundation is a not-for-profit foundation that develops tools to help data centres and hosting companies transition to renewable energy sources. Their Green Website Checker is a simple tool that will assess whether your website is green-hosted and therefore eco-friendly. As you can see below CSR Management is green hosted. You can also showcase your sustainable credentials on your own website once you've been verified.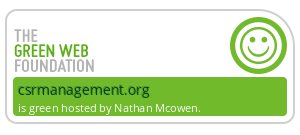 Whether you're just starting out and designing your website or you're looking into switching to a Green Web Hosting company it's vital that you consider your website's impact. For more information on the environmental impact of the internet and things you can do to reduce your impact take a look below.

The Environmental Impact of the Internet – An Infographic by
Kualo
.